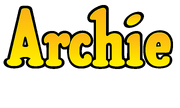 Archie Comics is an American comic book publisher founded in 1939. It is most well known as the home of Archie, Betty, Veronica, Jughead, Sabrina, and Josie and the Pussycats. It is currently led by CEO Jon Goldwater. It serves as the main inspiration and basis for Riverdale.
Archie Comics was originally named MLJ Magazines (the initials of the owners), and they primarly published superhero comics. In 1946, they started publishing comics based around Archie Andrews, Veronica Lodge, and Betty Cooper. The success of these comics led to the renaming of the company from MLJ Magazines to Archie Comics.
Archie and Riverdale
Edit
In 2010, Archie Comics launched a series called "Life With Archie" that focused on two different futures - one where Archie marries Betty, and one where Archie marries Veronica. In the story were numerous political conversations, including but not limited to, same-sex-marriage, gun control, financial problems, and many more. In the same year, Archie Comics created its first gay character - Kevin Keller, which would later lead to them winning a GLAAD award for outstanding comics.
In 2013, they launched its first horror-based comic, titled "Afterlife with Archie" whose success led to the making of another horror-based comic titled, "Chilling Adventures of Sabrina". The latter which focused on the teenaged-witch Sabrina Spellman.
In 2014, the company announced they would be relaunching the first issue of Archie, which would focus on a modern-day Archie, Betty, Veronica, and Jughead, along with new characters. The title received IGN's "Best New Comic Series of 2015" award. Also launched in 2015 with Archie, were Jughead, Betty and Veronica, Life with Kevin, Josie and the Pussycats, and finally, Reggie and Me.
The Archie comics have been adapted numerous times over the years, be it in on stage or on the small screen. The most recent adaption has been the CW show titled Riverdale, which is a darker look on the world of Archie. In this adaption are a number of the characters from the comics, as well as similar plot-lines.
Josie and the Pussycats
Edit
Josie and the Pussycats (originally titled Josie and She's Josie) is a humor-based comic series orginally published by Archie Comics from 1963-1982; a series of oneshots were published regularly since. It focuses on the fictional female rockband known to the world as "Josie and the Pussycats". In the band were leader Josie, and her two best friends, Melody and Pepper. In 1969, after a renovation, Pepper would be renamed Valerie.
In 1970, the series was adapted into a morning cartoon, which had its own album released shortly after. Following the successful adaption, was a movie that took place in 2001, which also had its own album released.
In 2005, Manga remade the comic, but the series focused on the Pussycats rise to fame, instead of there life after achieving it. This version included new characters such as the rival group the Vixens, and numerous other characters.
In 2016, a Josie and the Pussycats reboot was announced along with "Archie". This comic would follow modern-day versions of Josie, Melody, and Valerie (who replaced Pepper).
Josie and the Pussycats have been adapted numerous times since its publicatoin in 1963. They had there own animated morning show called Josie and the Pussycats (1968-1969), followed by another verison that ran from 1970-1971. The most recent adaptation has been the CW's 2017 television show titled Riverdale. In the adaptation are Josie, Valerie, and Melody, who are all women of color.
Comic book adaptation
Edit
In April 2017, Archie Comics released a comic book adaptation of the CW's Riverdale TV series, called Riverdale. With Roberto Aguirre-Sacasa and the writers of the CW's Riverdale, this ongoing series is set in the universe of the TV series.
Ad blocker interference detected!
Wikia is a free-to-use site that makes money from advertising. We have a modified experience for viewers using ad blockers

Wikia is not accessible if you've made further modifications. Remove the custom ad blocker rule(s) and the page will load as expected.