"
They stole our livelihood, Betty. And I'd die before I let them steal my daughter, too.
"
— Hal to Betty[src]
Hal Cooper is a recurring character on Riverdale. He is portrayed by Lochlyn Munro.
Hal is the editor and co-owner of the local newspaper, which he runs with his wife Alice Cooper, and the father of Betty and Polly Cooper. He holds a fanatical hatred for the Blossom Family, due to a feud that occured a few generations back and abhors his own unborn grandchildren. He is also soon to be the grandfather of Jason and Polly's twin babies.
Early Life
Edit
Prior to the start of the series, Hal married and later had two daughters, named Betty and Polly, with his high school sweetheart, Alice Cooper. Hal and Betty would often spend time together by working on vehicles.
During his high school years, Alice, who was simply his girlfriend at the time became pregnant. Hal pushed her to have an abortion, as he believed it was the best option considering that she was not ready to be a mother. Alice refused an abortion and instead gave the baby up for adoption once he was born.
Hal also owns the local newspaper, The Register, alongside his wife. Due to his family's history with the Blossom family, he harbors a deep hatred for members of the Blossom family.
Throughout the Series
Edit
Death of Jason Blossom

Hal stood alongside Alice, as the local authorities brought Penelope, Cliff and Cheryl Blossom up to the shore of Sweetwater River, just after the mysterious drowning of Jason Blossom. The following week, he returned to the shore with his wife and daughter, they were forced to stand by as Jason's body was brought to land.[1]

Before leaving their home, Hal and Alice told Betty that it would be a long night for them. Alice corrected him as there'll be a lot of long nights due to Jason Blossom's murder. Hal found his wife's tone to be a little unsettling, as it almost sounded like joy. However, Alice was unconcerned with his opinion.[2]

Hal and Alice attended the first annual Taste of Riverdale, in celebration for the upcoming 75th anniversary of their town. Once there, Hal was forced to assist in breaking up a violent altercation between his wife and Penelope Blossom.[3]

Hal and Alice knocked on the door of the Andrews house, he first apologized to Fred Andrews for coming unannounced, but it's been a rough couple months for them. Before Hal could finish his sentence, Alice cut him off, she insisted that Archie and Betty stop spending time together. The relationship is toxic, on both sides, and their recent behavior reflects that, or so Alice claimed.[4]

While Alice was off at a women and journalism spa retreat, Hal took the opportunity to work on his car, however, that was halted as Betty entered the garage, wanting to talk about Polly. Hal explained that Jason and Polly had a fight, he was unsure what the fight was about, but Polly was devastated afterward. He came home from work one day and heard the water running in the bathroom, so he knocked on the door, asking Polly if she was okay, but she didn't reply. Hal then kicked the door down to find a suicidal Polly attempting to commit suicide, this is why she was sent away. After a heartbreaking talk with Betty, Hal proceeded to watch old home movies of Polly that night, while drinking his sorrow away.

Hal later attended Jason Blossom's Memorial, there he had a run-in with Cliff Blossom, they had a brief exchange of words in what looked like a heated conversation from Betty's view, and went their separate ways.

Coopers vs Blossoms

Once home, Betty confronted him with news that Polly was engaged to Jason, however, Hal was already aware of this, it goes back to what he and Clifford were arguing about, which was their families, the Blossom clan came extremely close to destroying his family. Cheryl's great-grandfather murdered his grandfather over money. They were business partners in selling and trading maple, but one day, Cheryl's great-grandfather decided that he no longer wanted to share the profits, so he murdered Hal's grandfather. The Blossoms stole their livelihood, he'd die before he's allow them to steal his daughter too, Jason made her sick, so she's not returning home into she's no longer sick. He warned Betty to stay out of it. By the end of it all, Betty had come to the conclusion that Hal was the culprit that broke into Sheriff Keller's house and stole the evidence regarding Jason Blossom's death.[5]

Having learned that Betty and Jughead secretly visited Polly at the Sisters of Quiet Mercy, he questioned if Betty had found what she was looking for while she was there. Much to her disappointment, she didn't. However, that didn't stop Hal from being the target of Betty's suspicions. He hated the Blossom family for stealing the Cooper family legacy, as well as Polly being pregnant with Jason's child, which gave Hal motive. Hal did not attend closing night for the Twilight Drive-In, nor was he with Alice, which that led Betty to believe that he was not only the culprit that broke into Sheriff Keller's house, and stole all the case files on Jason's murder, but that he might have been the person who killed him. Hal and Alice accused Betty of sounding just as crazy as Polly, who Hal claimed was depressed and delusional, and her story about running off with Jason, just a fantasy.[6]

Hal, Alice, Betty, and many other residents of Riverdale orchestrated a search party in an effort to find Polly. They began in the Eversgreen Forest, and headed East since that's the direction Polly would have gone in if she wanted to leave town unnoticed. After a run-in with the Blossoms, Alice announced to the town that Polly was pregnant with Jason's child.

The next morning, he and Alice were asked a number of questions by Betty, such as if Polly and the baby would be staying with them at the house. Hal and Alice lied to Betty, they told her that Polly decided to give the child up for adoption as it was the only option, however, Betty already knew that they weren't telling her the truth as she had secretly found Polly the night before.[7]

Appointments & Altercations

Following Polly's baby shower, which he did not attend, Hal, while watching a baseball game, was confronted by Alice, who had learned that Hal made an appointment with a doctor to get Polly an abortion after learning of her pregnancy with Jason Blossom's child, which he kept secret from Alice. In the ensuing argument, Hal insisted that sending Polly to the Sisters of Quiet Mercy wasn't enough because the child belonged to the Blossoms. When Alice demanded that Polly be brought back home, Hal lost his temper and insisted that he will not be raising a child with Blossom blood. Outraged, Alice threw Hal out the Cooper household for neglecting their duaghter.[8]

Later, Alice and Betty came to Hal at The Register, where they presented him with a USB flash drive that contained a tell-all exposé of the corruption surrounding the Blossom family. Alice and Betty explained that they want to make the Blossoms to answer for all the harm they had caused, including for taking Polly, who was currently residing at Thornhill. However, Hal refused to publish Alice's article, which would benefit her personal grudges. Having been bitter after getting kicked out of the house by Alice, Hal changed the login password for the Registers' computer, so that Alice could not use it. Hal explained to Alice that he is firing her from the paper as retaliation for being kicked out of the house. Enraged that Hal is holding her back again, Alice destroys his front glass door with a rock. [9]

Under the wrongful impression given to him by Betty, Hal assumed his presence was requested by Alice for dinner she was hosting for FP and his son, Jughead. Unfortunately for Hal, Alice was completely unaware that he would be attending the dinner up until his unexpected arrival. Reluctantly, Alice offered him a seat. Hal mentioned that he had been hoping at the possibilities of there being vacancies down at the Sunnyside Trailer Park, where FP resided, because he had been sleeping at The Register ever since Alice kicked him out, and it was starting to get a bit cold at night. FP joked that Hal's office was likely more comfortable than the trailer park, but Hal disagreed.

He told them about Alice's redecorating of the office, a reference to her throwing a brick through the front window. With Betty and Jughead attending their Homecoming later that night, FP recalled their Homecoming night, in which Hal and Alice were crowned King and Queen, but it's what took place before the crowning that FP had reveal. He overheard Alice and Hal screaming at each other, he didn't know what they were fighting about, but it sounded serious.[10]

Destroyed Evidence & Parted Bloodlines

After learning that FP Jones was arrested for the murder of Jason Blossom, Hal crept back into his house in the middle of the night to destroy the evidence he had previously stolen from Sheriff Keller's house. Unfortunately, he accidently woke up Alice and Betty as he was rummaging through the files, leading to an altercation in which Alice pointed a gun at him while under the impression that he was an intruder. After revealing his identity, Hal cleared up the matter. Alice pointed out the unlikelihood of him having broken into the Sheriff's house as FP had already admitted to that, which Hal noted as being strange since he's was the culprit. He explained that he was worried that the investigation would lead back to Polly, and that Sheriff Keller would somehow put together the on-going feud between their family and the Blossoms. Hal then revealed that Betty's great-grandfather wasn't just murdered by a Blossom, he actually was one.

After the murder, his family severed ties with the Blossoms and their name, eventually taking a new one; Cooper. Hal, Betty and Polly were all Blossoms by blood, which made Polly and Jason relatives, third cousins to be exact, and this is why he wanted to terminate the pregnancy, as their relationship was technically incest. They began to wonder if Hal would go that far to keep them apart, how far would the Blossoms go, so they rushed over to Thornhill to retrieve Polly. Before taking Polly home, Hal questioned the mental stability of Clifford and Penelope as they were perfectly fine with the incest that had taken place between Jason and Polly.[11]

Family Reunion

Just days after the suicide of Clifford Blossom, and the revelation that he was responsible for the murder of his own son, Jason Blossom, the Coopers went back to their regular routine life. Hal had returned home, and they were all acting as if the last few months never happened. They smiled, and talked about the 75th Anniversary Jubilee, pretending to be a perfectly normal family by avoiding any discussions of the secrets and revelations that had flooded the town.

At The Register, he and Alice were handed an article by Betty, pertaining to FP Jones' arrest. He and Alice agreed that while it was the best thing Betty had written, they didn't believe it should be published for a number of reasons. Not only would people think that she was simply doing it for her boyfriend, Jughead, but there was also the concern for her well-being. There were reports of attacks on the south side, law enforcement and residents were gunning for the Serpents, and crime was on the rise. There was a lot of anger flowing through town, and at the moment, it was directed at the Serpents, so Hal and Alice didn't want the rage to turn towards Betty.

A couple days later, he attended the Jubilee with Alice and Polly. The three of them sat in the crowd as Betty got on stage and discussed the town's deepest problems, and how they weren't being addressed.[12]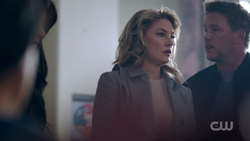 After hearing that Fred had been shot at Pop's shoppe by an unknown, black hooded assailant, Hal, Alice, and Betty rushed over to Riverdale General Hospital, where Fred was undergoing surgery. To no surprise, they are met by Jughead, Veronica, and Hermione. They entered the lobby to find Archie pacing back and forth, covered in his father's blood. As the kids embraced, Hal, Alice, and Hermione checked in with the nursing station. While Archie headed into the hallway to call his mother, and inform her of Fred's shooting, Alice accused the Southside Serpents of potentially being involved, and looked to Jughead for answers. In consideration of everything that was going on, Hal whispered to her that now was not the time.
Once Archie returned from questioning with Sheriff Keller about his father's shooting, Fred's doctor entered the lobby to inform them that they got the bullet out and stopped the internal bleeding. However, Fred wasn't breathing on his own yet, which was quite worrisome. As soon as the doctors get him situated in a room, Archie will be allowed to sit with him. Until then, everyone urged Archie to go home, and get changed.
Hal briefly appeared in one of Fred's dream-like hallucinations following the shooting. He sat alongside Alice in the crowd at Archie and Veronica's Scottish themed wedding.[13]
Physical Appearance
Edit
Hal is a middle-aged man of average height, around 5′ 11″, with a muscular build. He has tan skin, blue eyes and blonde hair. Like his wife, Alice, Hal is typically dressed in professional clothing, suits or collared shirts and vests.
Relationships
Edit
Appearances
Edit
See also: Category:Images of Hal Cooper
References
Edit
Ad blocker interference detected!
Wikia is a free-to-use site that makes money from advertising. We have a modified experience for viewers using ad blockers

Wikia is not accessible if you've made further modifications. Remove the custom ad blocker rule(s) and the page will load as expected.